FAST, SAFE, & EASY
We Do All the Work So You Don't Have To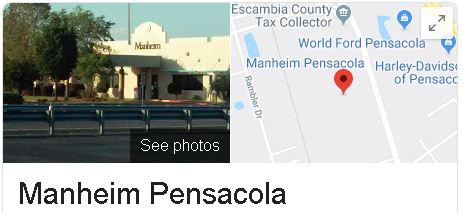 Florida, we now have a location at Manheim Pensacola, Florida – 6359 North West Street, 32505 and we want to know, are you interested in trading in your current vehicle or selling it outright? If so, then get your quick 20-second instant cash offer from us and know its true value. After you get your quote and it is paired up with a little, or a lot of homework, you will see we give you the most money for your car. Once we both agree on your high and fair offer, you can sell your car quick to Car Buyer USA and get money in your bank FAST, SAFE, and EASY! If you want to skip right past being lowballed in Car City and jump right into a high payout from us, see how it works then fill out our short form and one of our friendly agents will contact you shortly to go over any questions you may have and set your vehicle's inspection appointment. If you are close by, like in or near The Community of Marcus Lake or a little farther out; perfect, get your high quote today.
If you are not ready to sell to us, it is not a problem. Knowledge is power and puts you in the driver's seat. Be smart and prepare first. Get a quote from us before, or during, the daunting task of running ads, endlessly driving around from dealership to dealership, placing a For Sale sign in the window, dealing with all the phone calls, emails, scheduling viewings with no shows, the exhaustive time, and salesmen/women lowballing you. It is not just a great idea; it gives you the edge.
Get rid of the huge pains that come with the DIY headaches. We take all the hassles out for you; and here is a little extra tidbit for you, if you cannot make it in to our new Manheim Pensacola location, we may be able to come to you to buy your car, just ask our agent for details.
Think the Old Fashioned Way to Sell Your Car Quick (Truck, Van, SUV Too) Is the Best Way?
Hold On a Second!
Car Buyer USA Is Now At Manheim Pensacola, Florida!
Why settle for a dealership trade-in value or go through the back and forth "this is all your vehicle is worth" and "I want more money for my car" dance? No one likes to dance to that tune! Do you think you are stuck with the traditional hassles when you think; I need to sell my car quick – truck, van, or SUV too?
THINK AGAIN!
THINK SELL MY CAR QUICK!
CUT RIGHT THROUGH THE HASSLE AND GET CASH IN YOUR BANK FAST!
The old tradition of selling a car IS BORING, OLD, AND BUSTED, and NOT the best way to get the most money for your vehicle anymore. There is a better option that is more convenient; and fast, safe, and easy. Do you know you may not even need to leave your couch and we could possibly come to you and with money in hand to boot ready to pay you for your vehicle? Sell your car fast and we will load it right up and drive off with it. Really! What is more, we will NOT do this in a week. We do this in as little as a few days, if not faster!
GET A 20-SECOND INSTANT OFFER AND…
GONE ARE THE DAYS OF…
…driving from dealership to dealership trying to get that number that hits the spot!
…parking your vehicle in your front yard with a for sale sign in the window.
…driving your car around with for sale written across the windows.
…paying to run a car, truck, van, or SUV for sale ad in the classifieds.
…risking your safety for posting your car, truck, van, or SUV for sale on Craigslist!
…meeting strangers at your home, or places you feel are safe to risk they may not be. Have you seen the news headlines lately? A safe place is not always safe.
… "Are you firm on the price you are asking?" Did they not understand what the word FIRM said in the ad?
…hassle emails, phone calls, and no shows!
…nothing happening when you need to sell your car quick!
GONE ARE THE DAYS OF INCONVENIENCE TO YOU!
SAY HELLO CAR BUYER USA and SAY HELLO FAST, SAFE, & EASY SOLD!
We are here to help you with an informed decision and you get an INSTANT 20-SECOND OFFER you can bank on! All it takes is filling out our short and simple form or calling 888-995-6498 to speak with a live agent. We buy cars and are here to tell you, "Yes, We pay cash for cars, trucks, & SUVs in any condition and do it fast, easy, and safe!" That's right Pensacola, Florida, it is convenience customized to you! We come to you so sit back, relax, and sell your car to us!
Guess what? If you do not like the idea of us coming to you, do not worry! You can still sell your car fast; just take your vehicle to our preferred partner, Manheim Pensacola, Florida. That means fast cash in the bank could literally be right down the road or only a short drive away!
We Are Happy To Be At Manheim In Pensacola, Florida!
America`s Auto Auction - Pensacola, Inc.
Manheim Pensacola
6359 North West Street
Pensacola, Florida 32505
Get Directions
When you want to sell your car fast and maybe you are not from Pensacola, or maybe you are new to the area, either way there is a lot to do. For all those who love the Navy and cannot get enough of it, this is your place! How about viewing the ocean from a lighthouse? Then there is always packing a picnic and heading to the 290-acre Florida State Park located on a barrier island just fifteen miles southwest of Pensacola! Moreover, for the history enthusiasts, there is something for you too. If you like museums, Pensacola has got you covered!
National Naval Aviation Museum
Pensacola Light
Perdido Key State Park
Fort Barrancas
Pensacola Museum of Art
And so much more you are sure to find entertainment for all!
Find Other Florida Drop-Off Location
Bradenton, Florida
Clearwater, Florida
Davie, Florida
Daytona Beach, Florida
Ft. Myers, Florida
Jacksonville, Florida
Lakeland, Florida
Lauderdale Lakes, Florida
Longwood, Florida
Miami, Florida
Midway, Florida
Milton, Florida
North Fort Myers, Florida
Ocala, Florida
Ocoee, Florida
Opa Locka, Florida
Orlando, Florida
Palmetto, Florida
Pembroke Pine, Florida
Pensacola, Florida
Riverview, Florida
Sanford, Florida
St. Petersburg, Florida
Tallahassee, Florida
Tampa, Florida
West Palm Beach, Florida
Whether you are near Car City, The Community of Marcus Lake, in Florida, or any other state, I am sure this goes without saying again, but we also have other preferred partners nationwide like Manheim Pensacola, so there are many of other locations to choose from when you want to sell your car quick. CarBuyerUSA.com does not mess around putting our customers first; it is why we are now located at Manheim Pensacola. We want to provide every convenience for you we can and make it easy when you start thinking, "I need to sell my car quick." We buy cars FAST, SAFE, and EASY in every Continental U.S. State. so we deliver no hassles all over America and put the money you want for your vehicle in your bank without delay. See how it works, get your high instant cash offer in as little as 20-seconds, and sell your car fast – truck, van, or SUV – today. If you are not in or near Pensacola, Florida, or just want to see what other locations are out there for you we have you covered. Find Your Nearest Drop-Off Location.