What is diminished value? How does it work? Mike Lasini, the diminished value expert in the USA, answers these questions and tells you what your accident vehicle is really worth. So when you need to sell your car quick and want to know what the diminished value is and how it works, Mike is your go-to pro. Get the answers at Car Buyer USA and find out your rights, what your car crash diminished value really costs you in value, and how to get the most reimbursement from your insurance company.
When cars, trucks, vans, or SUVs rolled off an auto manufacturer's assembly line they were built by the experts and it's in optimal condition. Every part is right where it is supposed to be the way it is meant to be. It is commonplace knowledge when a car drives off the dealership lot the value depreciates instantly and the expected depreciation value's clock starts ticking down. Once the vehicle has been in a car crash, however, that value depreciation clock stops and a new one starts.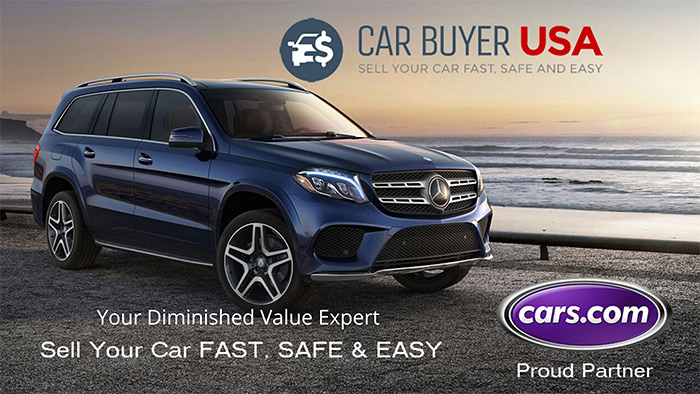 What happens to the value after a car crash?
Car worth changes once an accident occurs even once all repairs are finished and it is looking and driving as good, or better, pre-car crash. It is a misnomer that once it is "as good as new" all is well and its value went right back to where it was before the accident and the depreciation clock picks up where it left off. When a person goes to do a trade-in on a new car at a dealership, they are in for a shock.
What happens to a vehicle's value after a car accident? It is obviously worth much less and the value takes on a new "life" so to speak, meaning it takes a hit. It will never be worth the same. People get the required repairs done and naturally think it is back to its pre-accident condition and under the impression if they go to trade it in or sell it in a private sale they will get top dollar for the current market value. Since Car Fax is a very useful resource for dealerships, it is equally as resourceful for a private buyer. Running a report will bring back all repairs performed on the vehicle if it is on record.
Insurance companies have led vehicle owners to believe after an accident their car is worth less than it truly is; even the best professional repairs will not increase your car value back to its pre-crash state. It is true the diminished value is drastic no matter which way you sell your car if a Car Fax report is ran, but an insurance carrier has a diminished amount they start at when calculating your "new car value". In other words, they have their standard deductions made before they start crunching numbers. How unfair is that? Very!
How's this fair? It's been fixed?
Let's think about this for a moment, it is a fair / unfair predicament to be in for both parties. It is not fair for the seller because their car, truck, van, or SUV looks and drives the same, if not better, before the car crash. On the flipside, it is definitely fair for the new buyer and puts them at a price point advantage. If you are going to get the real amount you deserve this is where your choice, of how you recover the diminished value for your damaged car is critical. By law you are entitled to fair market reimbursement value from the loss you sustain during an accident and Mike and his team can help you get more money.
Here at CarBuyerUSA.com we have a unique patent pending system that calculates pricing to provide you with the correct assessment of your damaged car's value loss. This is something an auto insurance carrier will never provide you. Insurance companies use a 17c formula that has the purpose of diminishing a wrecked car's diminished value from the start putting them at a clear advantage over the vehicle owner. Once their finished with their assessment calculation the results are an unfair and drastic drop in your auto's value.
Things You Need Know
All insurance companies are required by law to payout diminished value, but they don't pay the actual amount on a car's diminished value. I will help you get the true reimbursement you are entitled to and deserve.
Your insurance premium cannot increase due to a diminished value claim submission or payout. If you feel this has happened, speak to an attorney.
Your insurance policy cannot be cancel by a carrier if you submit a claim or collect a reimbursement for diminished value. If your insurance is canceled after submitting a diminished value claim, and you feel it's possibly the cause, speak with an attorney.
A driver at fault or a driver NOT at fault for a car accident, can file a diminished value claim. Never let your insurance company convince you otherwise.
Now that you fully understand and are aware of what diminished value is, your rights, and how it works, wouldn't you like to know your damaged car's accurate worth? Of course, you do and Car Buyer USA can give you the correct dollar amount! There are 2 ways for this to happen right now.
Fill out our short 2-step process form and get the high cash offer, in as little as 20-seconds, you won't get anywhere else.
If you like the quote, provide us your contact information and one of our friendly agents will call you.
Now that you know what diminished value is and how it works, find out how we Car Buyer USA can help you. Our process is FAST, SAFE, and EASY and you get the highest instant cash offer you will find anywhere in the Continental U.S. in as little as 20-seconds. Once we have your information we will be touch shortly after to get cash in your bank fast. Sell your car quick today. Mike Lasini, your diminished value USA expert will tell you exactly what your accident car worth really is. Don't let the other guys low-ball you! Get help you today!